Veterinarian formulated quality products for cats.™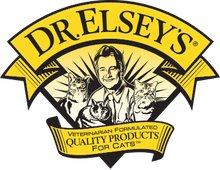 Ann-imals Pet Supply Store is proud to carry Dr. Elseys Precious Cats in York, Maine. Bruce Elsey has been a feline-only veterinarian for over 35 years and his practice cares for over 8,000 cats. Dr. Elsey's goal is to provide products that help cats live happier, healthier lives. Learn more about Dr. Elsey's quality products for cats and how you can improve the life of your cat.

Cat Food
Dry Cat Food: cleanprotein™ Wet Cat Food: Canned cleanprotein™
Cat Litter
Dr. Elsey's Litter: Clean Tracks™, Classic, Kitten Attract™, Post Sugery Litter, Cat Attract™, Health Monitor™, Touch of Outdoors™, Urine Removal Program with Aromatherapy, Ultra Litter Attractant, Senior Litter, R&R™ Respiratory Relief SIlica Gel, R&R™ Respiratory Relief Clumping Clay Litter, Long Haired Litter
Come visit our pet supply store in York, ME specializing in quality food, treats, and supplies for cats, dogs, birds, and small pets.